When I bake I always replace half of the flour with wholegrain, replace butter with a low-fat 'buttery' spread and reduce the sugar to a third. This is both frugal and much healthier then shop-bought but unfortunately everytime I go throw a phase of baking I find myself grumpily baking at 9:00pm every other night as D can get a little too enthusiastic about eating them.
Recently I've been inspired by
Frugal Queen
and
One Life and 3 Kids
who batch bake, freeze and then defrost portions. This weekend I'm going to try batch baking lots of goodies and fill the freezer which I shamefully underuse.
The first lot I think I'll make will be some muffins, my recipe being an adaptation of
Fluffy Apple Muffins
which I can vouch are very fluffy indeed...
Basic Healthy Muffin Recipe
75g low fat 'buttery' spread
1/2 large pot of natural yoghurt
100g or a mix of diced fresh fruit eg. apple, pear, banana, grated courgette or carrot, frozen berries or dried fruit.
Mix all of the ingredients in a food processor, decant into a cake or muffin tray and bake at 180c for 25 minutes.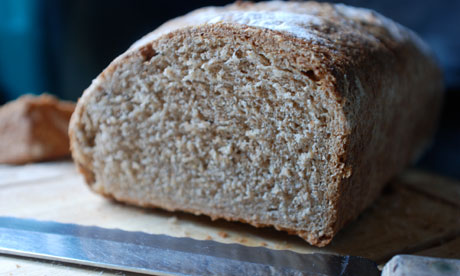 Dan Lepard's Wholemeal Loaf
But I also want to tackle something that I really should have tried by now but haven't... a nice wholemeal loaf. After a lot of research into non-machine recipes I have chosen this one by Dan Lepard from his article
how to bake wholemeal bread
as it promises a really fluffy loaf with very little kneading thanks to longer rising time.
Dan Lepard's Wholemeal Loaf
400g strong wholemeal flour
50g strong white flour
2 tsp easy blend yeast
Half a 500mg vitamin C tablet, crushed
2 tsp salt
3 tsp brown sugar
400ml warm water
50g melted butter
1. Tip the flours, yeast, vitamin powder, salt and sugar into a bowl and mix well. Add 300ml water, and stir in well, then pour in the butter and work in well. You should have a soft, sticky dough: if not, add a little more water. Cover and leave for 10 minutes.
2. Tip out on to a lightly oiled work surface and knead for 10 seconds, then put back in the bowl and cover. Repeat twice more at intervals of 10 minutes, then leave the dough to rest for 15 minutes.
3. Flatten the dough into a rough rectangle about the length of your baking tin, then roll up tightly, and put into a greased tin, with the join facing downwards. Cover and leave to rest in a warm place until it has doubled in height (at least 1½ hours).