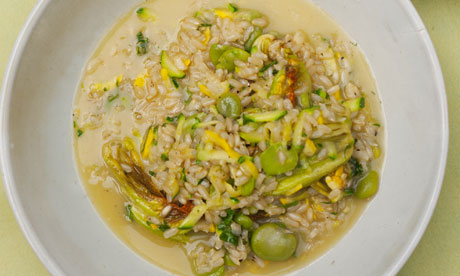 Nigel Slater's Brown Rice, Courgettes & Mint
I love brown rice, its a very frugal and wholesome wholegrain, but apart from a stir-fried rice I usually serve it with something rather then as a dish.
Browsing on the fantastic
Guardian Food & Drink
section I found this wonderful
Brown Rice, Courgettes & Mint
recipe by one of my favourite food writers Nigel Slater.
Most of his recipes use wholesome ingredients but end up quite calorific so I often just admire them. Which is why I'm so excited about this dish which looks like a great wholegrain alternative to risotto and way of using up lots of green veggies.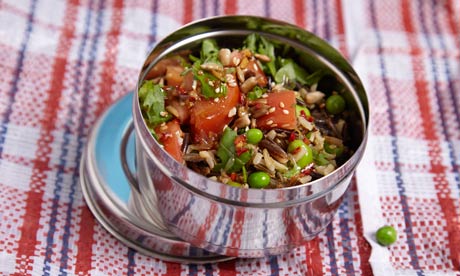 Allegra McEvedy's Tuk Tuk Salad
This got me thinking as to what other flavoursome and healthy dishes can be made with brown rice before stumbling across this
Tuk Tuk Salad
by Allegra McEvedy.
This looks like a bit of a super-foood salad perfect for lunch boxes with brown and wild rice, peas, broad beans, tomatoes, rocket, coriander toasted seeds and sesame oil.
Mushroom & Brown Rice Pilaf
I love mushrooms and this
Mushroom & Brown Basmati Pilaf
from the wonderful source of inspiration
BBC Good Food
looks like a winner and I can't wait to try it.
p.s. we tried the vegetable and lentil curry last, unfortunately I was too hungry to take a photo, but it was absolutely delicious and I can't recommend it enough